Ceph Developer Summit - Reef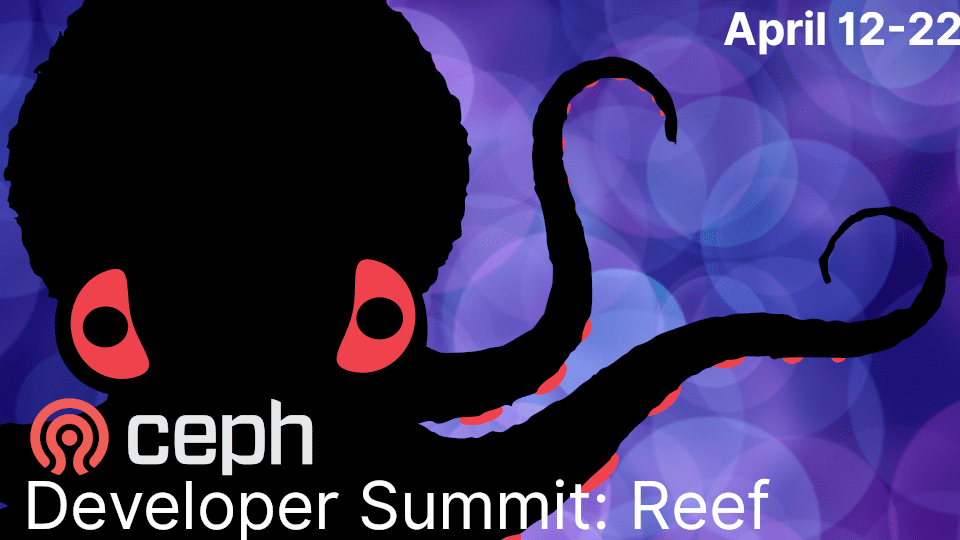 As we near our major release of Quincy v.17.1.0, plans for the next release, Reef, are underway with the next Ceph Developer Summit!
Typically we would hold the summit at Cephalocon, but the conference was postponed to July 11-13th. In the interest of keeping momentum going, there will be a virtual Ceph Developer summit April 12-22nd.
The schedule can be found below. Topics can be added on the etherpad,
We will continue discussions from this virtual event to our in-person summit at Cephalocon on July 11th.
Subscribe to the community calendar
Week 1 ¶
April 12 ¶
| Time | Component | Topics |
| --- | --- | --- |
| 15:00 UTC, 11:00 AM EDT | Orchestration | etherpad |
April 13 ¶
| Time | Component | Topics |
| --- | --- | --- |
| 15:30 UTC, 11:30 AM EDT | RGW | etherpad |
April 14 ¶
| Time | Component | Topics |
| --- | --- | --- |
| 15:00 UTC, 11:00 AM EDT | Performance | etherpad |
Week 2 ¶
April 19 ¶
| Time | Component | Topics |
| --- | --- | --- |
| 14:00 UTC, 10:00 AM EDT | Dashboard | etherpad |
| 16:00 UTC, 12:00 PM EDT | Teuthology | etherpad |
April 20 ¶
| Time | Component | Topics |
| --- | --- | --- |
| 05:00 UTC, 01:00 AM EDT | Crimson | etherpad |
| 14:00 UTC, 10:00 AM EDT | Ceph Project Governance | etherpad |
| 15:30 UTC, 11:30 AM EDT | RBD | etherpad |
April 21 ¶
| Time | Component | Topics |
| --- | --- | --- |
| 15:00 UTC, 11:00 AM EDT | Performanace | etherpad |
| 16:00 UTC, 12:00 PM EDT | RADOS | etherpad |
April 22 ¶
| Time | Component | Topics |
| --- | --- | --- |
| 15:30 UTC, 11:30 AM EDT | CephFS | etherpad |